GET A 3D VIEW OF RACIAL EQUITY
Performance.
Disparity.
Impact.
Performance: How well all people are doing. For example, how high are Los Angeles County graduation rates?
Disparity: How well different racial groups in a county are doing compared to each other. For example, are Latinos graduating at the same rate as other groups in Los Angeles County?
Impact: The total population for each county and therefore how many people are affected. For example, how many people live in a county where graduation rates are high, but Black students don't graduate as often as other racial groups?

SCATTERPLOTS, MAPS, HEAT MAPS
We use these colors primarily in scatterplots charts or geographic and heat maps

DISPARITY/PERFORMANCE
Colors measuring average / aggregate disparity or performance from lower (green) to higher (red)

BAR CHART COMPARISONS
In plotting bar charts, especially on county and city comparison pages, we use two colors: yellow (primary/county) and orange (secondary/city)

PURPLE COMPARISON
A third color of purple is added to bar charts when comparing two cities against the county average. The second city is purple. Yellow remains county. And orange is the initial city. Purple is also a color used in maps and charts that don't directly compare with other data sets.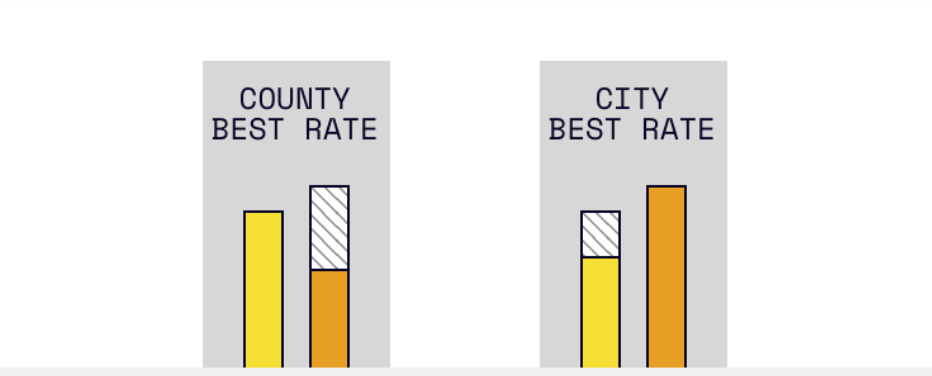 BEST AND LOW RATE
The best rate is not the same as the best outcome. The best rate applies to the racial group which has the best performance on an indicator (e.g., highest graduation rate or lowest poverty rate).
KEY ISSUE
KEY ISSUE
KEY ISSUE
KEY ISSUE
KEY ISSUE
KEY ISSUE
Healthy Built Environment
KEY ISSUE